Kiirotiori is a small,yellow bird often seen with Rilakkuma and Korilakkuma.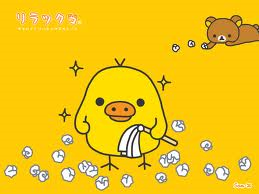 Personality
Edit
Kiiroitori is a yellow bird who lives at Kaoru's house. Kiiroitori means "yellow bird" in Japanese. He used to be in a birdcage but now he comes out at his own discretion and scolds Rilakkuma and Korilakkuma because Rilakkuma is too lazy and Korilakkuma is too mischievous. Sometimes he feels down because he thinks he scolds them too much. He plays a tsukkomi role (considered to be the smarter, more logical one who criticizes others for making mistakes). Kiiroitori is basically the opposite of Rilakkuma because of the bird's hard-working nature
Kiiroitori loves cleaning and working hard.
Ad blocker interference detected!
Wikia is a free-to-use site that makes money from advertising. We have a modified experience for viewers using ad blockers

Wikia is not accessible if you've made further modifications. Remove the custom ad blocker rule(s) and the page will load as expected.