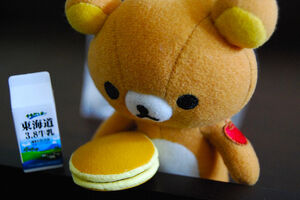 Welcome to the Rilakkuma Wiki
Edit
Rillakuma is a Japanese teddy bear who has his own brand of pencil cases, bags, toys and pillows. You can help by editing and adding pages to this wiki! You can also add pictures or anything you want about Rilakkuma!
Basics on Rilakkuma
Edit
Rilakkuma has been revealing his appearance since September 2003, turning into one of the ultimate "kawaii" brands for San-X. Other than his name basically meaning 'Relax Bear', and him originating as a character in a kids' storybook, there is very little information about him...however, we do know he loves dango rice, pancakes, omurice and custard pudding, but could eat a variety of foods, based on the author's style.
His friends are Korilakkuma (the white Rilakkuma-style bear) and Kiiroitori (the bright yellow chick).
Latest activity
Edit
Ad blocker interference detected!
Wikia is a free-to-use site that makes money from advertising. We have a modified experience for viewers using ad blockers

Wikia is not accessible if you've made further modifications. Remove the custom ad blocker rule(s) and the page will load as expected.